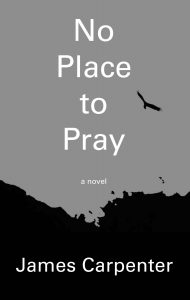 In James Carpenter's No Place to Pray, two young men, one bi-racial and the other white, meet in an overnight lockup and begin their shared twenty-year downward spiral into alcoholism and homelessness. LeRoy and Harmon work together, drink together, brawl together, and as Harmon suffers from his final illness, they both bed Edna, a wealthy widow who, out of pity, curiosity, and loneliness, takes them into her vacation home by the river. Through episodes rendered from shifting, multiple points of view, a series of flashbacks, and LeRoy's adventure stories—this very smart but uneducated man's attempts at fantasy writing—we learn of the people and tragedies that shaped their lives and those whose lives unravel along with theirs at the seams of race, class, and religion, and where no one ever quite tells the truth.
Praise for No Place to Pray
"No Place to Pray is an astonishing accomplishment. James Carpenter opens the window to a complex hardscrabble community, a part of our country that we rarely see so clearly. His characters navigate a universe that rests on indifference and resignation. Despite the relentless push toward degradation the human spirit pushes back with strength, humor, dignity, and imagination. Drunk or sober, Carpenter's characters speak their version of truth, sometimes mean, sometimes tender, sometimes violent, sometimes filled with humor and irony, always honest, and always without rounding the rough edges. James Carpenter is a gifted writer. This book is an important addition to our understanding of contemporary America." ~ Vern Miller, Publisher, Fifth Wednesday Journal
Available from:
James Carpenter's fiction has appeared in numerous publications including the Chicago Tribune and Fiction International. No Place to Pray is his first novel.